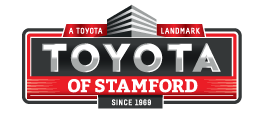 At Toyota of Stamford, our top priority is the health and well-being of our customers, our community, and our employees. We are monitoring the news about COVID-19 and are committed to being responsive to the needs of our customers as the situation evolves. 
Toyota of Stamford will be closing as of Saturday, March 21, 2020, at 8PM. Please rest assured in your ability to reach us from virtually anywhere, anytime at www.toyotaofstamford.com. From our website, you can contact us immediately regarding any question or concern, such as lease expirations, updating your personal details, viewing transaction, etc. We understand that, although many citizens are working from home and staying in place, your means of transportation for daily supplies, and that of other essential workers depends on us in order to continue their daily functions. We will continue to be available and maintain a prompt form of reply through email and online communications.
We will continue to keep you informed regarding any changes at Toyota of Stamford and are here to assist you as needed.